Summary — Closed Generic Domains Controversy
Domain name choices for websites are about to dramatically expand. More than a thousand new domain extensions are being evaluated and will be launched soon. The new domains are coming. Domains like Jewelry.store, Software.cloud and Life.insurance will join existing traditional name options like GoldJewelry.com and CloudSoftware.co.uk.
However, among the applications are many for "closed registries" — which means that none of the domains carrying that extension will be offered for sale to the general public. Instead, large corporations are planning to operate tens of thousands of websites under those domains in complete exclusivity. This will obviously be to their obvious commercial advantage.
Domain super monopolies to shut out competitors.
Imagine for a moment a single company owning every .store domain like the following samples, plus hundreds of thousands more, covering every product in existence:

Well that is precisely what Amazon, already an internet retail giant, is planning to do.
(The .store string is discussed on the .STORE string page - Ed.)
Example
As an example, The Weather Channel has applied to operate a closed registry on the proposed .weather string:
"...Over the next few years, the number of registrations is likely to increase to about 100,000 domain names as TWC (The Weather Channel) develops and implements new services...

"As a restricted gTLD, registration will only be open to internal users (affiliate entities) at this stage and no unaffiliated third parties will be able to register domain names under .weather domain space."
See more info on the Misc strings 1 page.
The implications of single corporations owning every domain in some of the new extensions are profound in the extreme. The potential for commercial damage to competitors is great.

Competitors will be locked out — even government regulators who control those industries will be blocked. (In the .weather example, even national weather organizations will be prohibited from owning .weather domains.) This situation has led to the risk of powerful super monopolies being created to the detriment of other entities and companies in the same industries. Serious questions are being raised about the extent to which this is seriously detrimental to the public interest.
The Existing Domains
There are currently two types of domain names on the internet, as illustrated in the top pie chart at left:
• country code domains (like .co.uk for Great Britain and .cn for China). These tend to be used mainly within their individual countries;

• generic domains (like .com, .net and .tv*). These are often used for more globally focused audiences. Some domain extensions like .tv have a more targeted focus than their broad counterparts.
There are more than 250 country domains, one for every country.
There are currently only about 20 generic domains — which has led to a shortage of good names for new business start-ups and individuals.
SPECIAL NOTE — For the sake of this discussion (because it is so dominant) the .com domain string is given a category of its own in the pie chart at left — though technically it is just another generic domain.
So in the 2013 pie chart at left we have three categories...
(* NOTE — Technically, .TV is the country code extension for Tuvalu, but is mostly used as a generic.)
The New Domains
1900 applications for more than 1400 new domain extensions were received by the deadline in 2012.
These are scheduled to begin rolling out in late 2013 and the process will probably take a couple of years. How the internet may look in six or seven years time is represented in the lower pie chart at left.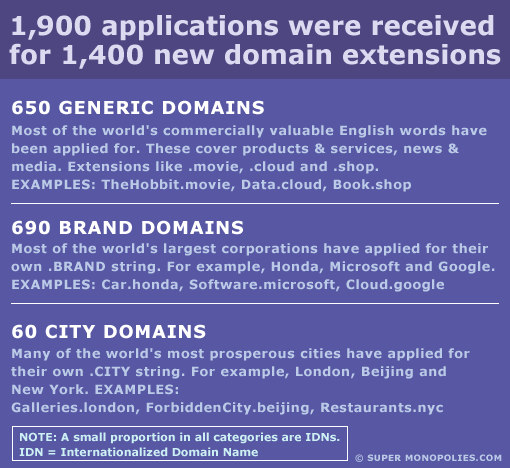 NOTE — Numbers on this page are approximate.
New Categories
Two completely new categories of domains are being added which you can see in the lower pie chart:
• The dot brand domains — many corporations have applied to launch their own brands as domain extensions such as .ibm and .apple. Hence we will see new domain names like Cloud.ibm and Phone.apple. These domains are based on trademarks and will be wholly owned by those corporations, and members of the public will not be able to register names under those extensions, such as JoeShmoe.ibm;

• The dot city domains — various large cities have applied to have their own .city domain extensions, like .london and .tokyo. Soon, we will see domains like Museums.london and Ginza.tokyo on the web. These will be operated by the city authorities and be subject to restrictions. Typically, you will need to be a resident or operate a registered business in that city to be eligible.
One completely new sub-category is possibly being added:
• Closed generic domains.
These appear to be the same as normal generic domains, but with one all-important and critical point of difference...
...Every domain under that string will be owned by a single owner. For example, Amazon has applied to own the .store string as a closed registry. That means Amazon will own every .store domain and website in the world. Sites like Camera.store, Beauty.store, Phone.store, Music.store, Jewelry.store, AutoPart.store and WomensClothing.store. Plus the dozen in the graphic on the top of this page like Department.store, plus hundreds of thousands more. The list is unlimited.
Yes, it's hard to believe that this may be being permitted to happen.
So in the 2020 pie chart at left we now have five categories, plus one new sub-category — closed generics.
Many Objections Made in the Public Interest

As you might expect, objections to the disturbing advent of closed generic gTLDs are passionate, and 100 excerpts from the ICANN closed generics forum are published on the ICANN forum pages. This is a threat to many industries. As an example, here are just three excerpts from high profile objections to the application to operate the .book string as a private registry:
"Amazon's clear goal is to dominate the bookselling and publishing markets. Their drive to further consolidate these markets will be greatly aided by their control of the .book, .read and .author TLDs. By having Amazon control these TLDs, creativity will be limited and content diversity threatened."

Barnes & Noble, Inc

"In the case of a closed generic TLD like .books, the exclusivity granted to the winning applicant would de facto strengthen the position of the biggest bidder to have sole use of the gTLD in the book industry, would be anti-competitive and extremely detrimental to the book industry as a whole."

European and International Booksellers Federation

"We strongly object to ICANN's plans to sell the exclusive top-level domain rights for generic book-industry terms, such as .book, .author, and .read. Placing such generic domains in private hands is plainly anticompetitive, allowing already dominant, well-capitalized companies to expand and entrench their market power. The potential for abuse seems limitless."

Authors Guild