My Objection Posted On ICANN Site
In early 2013 ICANN opened up a comment and objections forum on its website about the emerging closed registry controversy. More than 200 objections to closed gTLDs have been received from numerous individuals and SuperMonopolies (reprinted below) — as well as from some of the world's most successful and influential corporations and organizations.
This is the address of the important forum:
http://forum.icann.org/lists/comments-closed-generic-05feb13/
Microsoft has posted its objection to the principle of closed gTLDs saying: "Closed generics are contrary to the public interest and the spirit and letter of ICANN's principles, and therefore should not be allowed." LINK
Hotel group Accor has objected to .hotel and .hotels etc. LINK
The Authors Guild objected to .book, .read and .author. LINK
The Prudential Insurance Company of America objected to closed applications for .insurance, .retirement and .mutualfunds. LINK
The United States Postal Service which has a registered trademark on the phrase Priority Mail® has objected to the possibility of a closed registry for .mail with the added risk of the domain Priority.mail being used by a third party. LINK
The Japan Association of New Economy (which represents 693 companies) objected to all closed TLD applications. LINK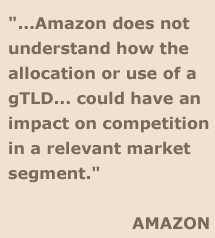 SuperMonopolies took the opportunity to post a summary of its reasons to object on 05 March — this is reprinted below in full. (An addendum is also reprinted at left.)
SuperMonopolies congratulates ICANN on providing this great opportunity in the public interest and will analyse many of these objections soon.
In particular, Amazon's response will be examined due to the seriousness of their multiple applications for up to 76 "walled garden" registries. (See, for example my analysis on the .Store string page.)
Here are excerpts from Amazon's amazing contribution to the ICANN forum:
"The use of generic terms in the second level have traditionally been allowed by ICANN without question over competition issues. Why should a company be able to own "widget.com" and not ".widget"?

"...Amazon does not understand how the allocation or use of a gTLD or an SLD could have an impact on competition in a relevant market segment."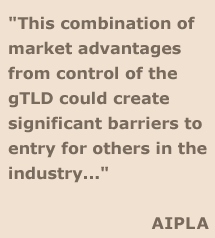 This is part of Amazon's attempt to justify their applications for a large number of closed gTLDs. Who do they expect to believe them — The general public? ICANN? The US Department of Commerce?
Amazon's amazing claim contrasts with statements by Jeffrey I.D. Lewis, President of the American Intellectual Property Law Association (AIPLA) who speaks with authority about the "market advantages from control of the gTLD" among other things.
Here is this AIPLA opinion in more detail:
"If these applications are granted, no one other than the applicant and its chosen designees will be able to register second-level domain names in the TLD, leaving the applicant free to exclude competitors and exploit the generic TLD for its sole benefit. The owner of the registry will be positioned to gain advantage in direct navigation and online search; may become uniquely associated with the category of products it offers through its association with the relevant domain; may be able to prevent substantially similar TLDs in the future; and will likely obtain a perpetual monopoly in the online space since the ICANN registry agreements permit unlimited automatic renewals. This combination of market advantages from control of the gTLD could create significant barriers to entry for others in the industry, which would ultimately harm the interests of consumers and the general public."
The AIPLA represents 15,000 members.
AMAZON LINK: Public Comment on "Open" v. "Closed" Registry Models Lorna Gradden .am
AIPLA LINK: Comments on Closed Generic gTLD Applications
Here is the link to the SuperMonopolies forum objection:
LINK:
http://forum.icann.org/lists/comments-closed-generic-05feb13/msg00070.html
And the link to the Adddendum:
LINK:
http://forum.icann.org/lists/comments-closed-generic-05feb13/msg00157.html

SuperMonopolies.com Objects To Closed Registries

I object to all the closed registry applications for new generic top level domains (gTLDs) being examined by ICANN such as .shop, .store, .news, .beauty, .tires, .insurance and all the rest.
These words are the common heritage of all people and should not be commandeered for the exclusive advantage of the world's largest corporations. There is a real risk that the anti-competitive ownership of these immensely valuable domain strings will lead to the rise of global super monopolies.
Right at a time when the internet is undergoing massive growth in e-commerce, it is critical that the new domains be allocated as fairly as is humanly possible, for the benefit of all people, particularly the disadvantaged.
Consider this excerpt from FrontPageIndia.com by Professor Madabhushi Sridhar:
"If developed world is given a chance to grab the usage of common heritage excluding others based on the criterion of $185,000 fee, the developing world is put to serious disadvantage and will further deepen the digital divide creating a new low of inequalities.

"It is an anti-competitive practice, unnatural and even immoral. Such monopolization of words generic in nature is antithesis of globalization and openness of world business beyond boundaries. It even amounts to colonization of Internet, which whole democratic world needs to oppose tooth and nail."
Instead, many of the world's largest corporations (for example Bridgestone — the market leader in the tire industry — an applicant for a closed .tires registry) are seeking to own the key word in their industry to further their market advantage and simultaneously block competition.
Amazon is seeking to control the .shop, .store and numerous other sales related domain extensions — all the best retail names. L'Oreal is seeking exclusive ownership of all the .beauty domains. There are many more cases of large corporations in various niches seeking to carve up the web into "walled garden" private internets.
Consider this March 2013 report in The Australian newspaper which states:
"National Australia Bank's latest Online Retail Sales Index showed online sales grew to $13 billion over the 12 months to the end of January, up 27 per cent at a time when overall retail sales grew by just 0.4 per cent."
The report is just one example among many of how supremely important the web is becoming in terms of global economics and trade. Traditional business is at a near standstill, while online commerce is soaring dramatically. It's clear to see that the fairness of the domain name system and its equitable disbursement is a key part of the world's economic trajectory.
Maintaining an open and balanced internet is clearly of vital importance to the coming century of internet e-commerce.
With this in mind, it is fundamentally important that registry and registrar functions should be clearly separated. ICANN should move decisively to correct this oversight.
ICANN's key commitment with the US Department of Commerce (DOC) is completely contradicted by some of the closed registry applications, for example, that of Bridgestone, which is already the world's largest tire company.
Here is an edited excerpt from ICANN's key commitments with DOC:
"3. This document affirms key commitments by DOC and ICANN, including commitments to: ...(c) promote competition, consumer trust, and consumer choice in the DNS marketplace..."
(NOTE: DNS = domain name system)
And here is an excerpt from Bridgestone's contradictory closed registry application for the .tires string:
"...the .tires gTLD registry will be operated in a centralised manner with a restrictive registration policy. Registration of domain names will only be available to BATO (Bridgestone)... ...the proposed new gTLD is not intended to instigate competition and consumer choice at the level of registration of domain names among prospective registrants."
Such applications completely and diametrically contradict ICANN policies.
Similarly, ICANN's own website states:
"ICANN developed the New generic Top-Level Domain Program to increase competition and choice by introducing new gTLDs into the Internet's addressing system."
Again, this is totally contradicted by many applications such as this Amazon one for the .store string:
".STORE will be a single entity registry, with all domains registered to Amazon for use in pursuit of Amazon's business goals. There will be no re-sellers in .STORE and there will be no market in .STORE domains. Amazon will strictly control the use of .STORE domains."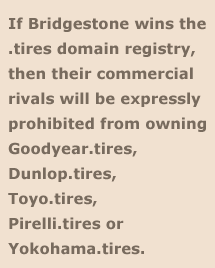 If Bridgestone wins the .tires domain registry, then their commercial rivals will be expressly prohibited from owning Goodyear.tires, Dunlop.tires, Toyo.tires, Pirelli.tires or Yokohama.tires. Equally important, your local mechanic down the road will be prohibited from owning Joes.tires or WestSide.tires. Bridgestone will then be able to leverage sophisticated marketing to "own" the expression ".tires" with imaginative advertising the like of which we have never before seen.
I further object to all so-called "open" generic word applications where more than one domain is being claimed (aside from the applicant's own brand name).
In narrow niche industries, 90 per cent of the value of the domain names in those niches may lie in as few as 10 or 20 names. Some applications state that they will operate "open" registries, but they also state or imply that they will retain a "small number" of domains for their own use.
This leads to the real risk of de-facto or virtual closed registries, though technically they are "open".
To continue with the same example, if a tire company with a hypothetical open application wins the .tires string, and then takes control over the domains: car.tires, truck.tires, aviation.tires, buy.tires, auto.tires, safety.tires, maintenance.tires, tractor.tires, suv.tires, farm.tires, Detroit.tires and Malibu.tires etc, i.e. a "small number" — then what remains are purely and simply "leftovers". The successful tire company would still enjoy a powerful domain monopoly.
The winning registrar effectively operates a closed registry, since they own 90 per cent of the best names as measured by "value" (however that is determined). With the best names taken and deployed, only "leftovers" would remain for all other tire companies.
Please consider my objection to closed (and de-facto closed) registries for generic domain strings for the sake of the internet and the implications for the economic well-being of the global economy. I have explored these issues in greater detail on the SuperMonopolies.com website:
http://www.supermonopolies.com
I have also signed and recommend the important online petition at Change.org titled: ICANN: Stop Corporate Takeover of New Internet Names:
Dave Tyrer
SuperMonopolies dot com
This objection will also be published on the website.