Background To The Proposed Closed gTLDs

In historical terms, the internet is young. Given that several million new companies launch around the world each year, it has become increasingly obvious that there has been a escalating shortage of relevant and usable domain names on the web for these would-be companies to build on and deploy.
To address this perceived shortage an expansion program was implemented back in 2008. In May 2012 the applications for 1930 new domain strings were released. ICANN has published a full list of applications here. The site claims that: "ICANN developed the New generic Top-Level Domain Program to increase competition and choice by introducing new gTLDs into the Internet's addressing system."
However, to the immense surprise of many, and somewhat inexplicably, it does not appear to have been made mandatory for successful registry applicants to onsell the potential millions of domain names soon to be placed under their control.
Inexplicable because the current domain name system, though not without problems, has provided reasonably fair and open opportunities for access to all names — and has been proven quite successfully over several decades. Why ignore these lessons?
Monopolistic Closed Domain Registries
Various companies are planning to privately own every single domain in many of the world's most valuable categories, locking out their competitors. Categories like .news and .store. These proposed closed gTLDs threaten free world online commerce.
How in the world does this "increase competition and choice"?
This is the fundamental reason for the creation of the Super Monopolies site.
If you or your family is involved in selling any product or providing any service on the internet, it is highly recommended that you closely investigate any applications for new domain strings in your field of interest. This site has not comprehensively investigated the 1930 applications for new gTLD domains. It has only focused on a few — like .news, .beauty, .tires and .store — as representative examples. The .news, .store and other strings are relevant to every single product and service in the world.
The ICANN list of applications is a good starting point for your own investigations.
BrandShield has provided an excellent list of the coming gTLDs illustrating which applications are for closed registries. There are many.
NewgTLDSite (organizer of the Change.org petition — see graphic at left) has also created a great list of closed registry applications on their site. Details of the petition and the opportunity to sign are presented on the Petition page.
Back in 2009 ICANN made the following claim:
"The Internet has historically thrived whenever the system is opened up further to allow users to express their creativity and innovation. We are now working on opening up the top-level domains so that not only nations but also other peoples and groups can have a unique identity on the Internet."
ICANN. Message from the CEO.
However, years later, the world is facing the prospect of ICANN overseeing the rollout of a large number of monopolistic and closed domain registries — in defiance of the public interest. How can ICANN (in allowing closed registries) describe it as "opening up the top-level domains"?
Read more about ICANN's contradictory claims on the ICANN Claims page.
Milestones
A second motivation for founding this website was a perception that there is a dramatic lack of awareness, understanding and underestimation of the coming domain revolution. Fortunately a small number of visionary experts do understand it, and awareness seems to be growing by the day. A small (but not comprehensive) selection of important articles with various perspectives is presented here...
SPECIAL NOTE: This is a vast subject. To fully understand it would require reading hundreds of documents and applications etc which is beyond the scope of this website. This site aims to provide numerous links and info to assist with deeper research.
Internet Commerce Association Post
Phil Corwin in a special guest post on DomainNameNews * wrote a landmark article about the wide implications and potential dangers of the impending new strings because of the nature of their regulation. This is an absolute must-read article. Phil Corwin is also the CEO of the Internet Commerce Association. The article is called:
New gTLDs: Competition or Concentration? Innovation or Domination?
* NOTE: The original link has disappeared... try finding a Google cache by searching for these terms:
New gTLDs: Competition or Concentration? DomainNameNews
"...Only one competition issue ever became the subject of heated and protracted debate. (in ICANN/GAC meetings). And that was whether ICANN's requirement for registry-registrar separation should be relaxed in concert with the new gTLD program, a question that ICANN eventually answered in the affirmative notwithstanding resistance from some members of the GAC."

"...They have the bulging wallets to shove others aside and acquire their desired gTLDs. If they secure their bids the nature of Internet search and commerce could be permanently transformed in a manner far afield from the 'competition and innovation' mantra used to justify this massive roll of virtual dice."

(in the context of string applications by the web's dominant online retailer and the net's dominant ad provider etc.)
Domain Name Wire (Amazon article)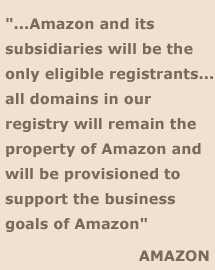 Andrew Alleman wrote an important story: Amazon.com won't offer domain names to the public at DomainNameWire pointing out that Amazon is applying for no less than 76 private internets:
"Amazon.com has applied for 76 top level domain names. But don't expect to be able to register any second level domains underneath them."
Domain Name Wire also includes a lengthy excerpt from one of Amazon's applications which includes the following:
"...Amazon and its subsidiaries will be the only eligible registrants... all domains in our registry will remain the property of Amazon and will be provisioned to support the business goals of Amazon."
Amazon's applications are clearly in direct contradiction to ICANN's policy statement, cited above, that: "ICANN developed the New generic Top-Level Domain Program to increase competition and choice by introducing new gTLDs into the Internet's addressing system."
More about ICANN's grandiose but false claims can be read on the ICANN Claims page.
An Alarm Bell Tolls In India
FrontPageIndia.com published an exceptional and incisive milestone article on 1 October, 2012 by Madabhushi Sridhar:
Monopolizing 'words' as gTLD on Internet
"Pay $185,000 and obtain monopoly over .love or any such word to stop whole world from using it on the internet as domain name. This is what going to happen with the new facility of purchasing private top level domain names, created by Internet Corporation of Assigned Names and Numbers (ICANN). While developing world is hopeful of increasing its growth of GDP (from 30 bn to 100 bn dollars by 2015 for India) through usage of Internet, a threat is looming large in the form of global monopolization of language by owning certain private top level domain names as facilitated by ICANN...

"Now what is that a corporation will get back for the price of $185,000? It will offer a virtual monopoly in virtual world over certain key expressions of language...

"Like nature and ecology, oceans and mountains, any language is the heritage of contemporary humanity inherited from forefathers. The doctrine of intergenerational equity and trusteeship over the nature and natural heritage will naturally extend to the language also. By paying a few dollars, no company could prevent the whole mankind now and the progeny from using the common heritage. Those words in general nature need to be made available for all for all times to come and cannot be transformed into private property of individuals or individual companies whether in real or virtual space. Words which cannot be copyrighted or registered as trademarks cannot be given to any company for any price. Neither ICANN nor UN has any authority over the wealth of Universal mankind...

"If developed world is given a chance to grab the usage of common heritage excluding others based on the criterion of $185,000 fee, the developing world is put to serious disadvantage and will further deepen the digital divide creating a new low of inequalities.

"It is an anti-competitive practice, unnatural and even immoral. Such monopolization of words generic in nature is antithesis of globalization and openness of world business beyond boundaries. It even amounts to colonization of Internet, which whole democratic world needs to oppose tooth and nail."
Madabhushi Sridhar, a Professor and Head of Center for Media Law and Public Policy, NALSAR University of Law, Hyderabad
Objections and Comments
This site was founded because of the lack of publicity concerning the applications for exclusive ownership of various proposed domain strings. Not many people on the street seem to even be aware that more than 1,000 new strings are coming, let alone be aware that an unknown number of them are intended to be monopolistic.
As DomainIncite noted, four US Congressmen wrote to ICANN: "many members of the public outside the ICANN community are unaware that the New gTLD program is underway". Read more.
Of those who are even aware of the coming tide of new domain strings, only a tiny proportion would have any idea that equality and opportunity of access will be denied by ICANN with regard to a large number of applications.
Despite having hundreds of millions of dollars in funds at hand, ICANN has chosen not to significantly publicise the new gTLD rollout.
A finely worded objection to ICANN organized by Michele Neylon of Black Night with 16 signatories and described in a blog post called "The Registration of Generic Key Word TLDs Should Be Available to All People" perfectly describes the situation:
"generic words used in a generic way belong to all people. It is inherently in the public interest to allow access to generic new gTLDs to the whole of the Internet Community, e.g., .BLOG, .MUSIC, .CLOUD. Allowing everyone to register and use second level domain names of these powerful, generic TLDs is exactly what we envisioned the new gTLD Program would do. In contrast, to allow individual Registry Operators to segregate and close-off common words for which they do not possess intellectual property rights in effect allows them to circumvent nation-states' entrenched legal processes for obtaining legitimate and recognized trademark protections." Read more.
More information about comments and objections to the proposed rollout can be read on the Comments and Objections pages.
Awareness of this serious issue is growing and in 2013 ICANN opened up a forum about the proposed closed generic domain strings. Excerpts from about 100 comments are published over six pages on this site on the ICANN Forum pages.
Significant Petition Started
In February 2013, a finely-crafted petition was launched on the Change.org platform to give members of the public the opportunity to voice their opposition. I hope you will join me by signing. There is a whole page devoted to this important petition here.
"The ICANN New gTLD Program was initiated to bring much needed competition to the end user domain name marketplace. Closed generic word registries defeat these purposes and are harmful to the public interest. By their definition, closed registries do not add supply and choice to the end user market for domain names..."
Change.org petition against monopolistic domain allocations.
Letter to Senator Rockefeller
TheDomains posted an article about an objection sent to Senator Jay Rockefeller (D-W.VA) chairman of the Senate Commerce, Science and Transportation Committee, by John M. Simpson, Privacy Project director of Consumer Watchdog. Consumer Watchdog says:
"If these applications are granted, large parts of the Internet would be privatized. It is one thing to own a domain associated with your brand, but it is a huge problem to take control of generic strings. Both Google and Amazon are already dominant players on the Internet. Allowing them further control by buying generic domain strings would threaten the free and open Internet that consumers rely upon." Read more.
Difficult to comprehend though it is, ICANN seems to be sanctioning the sell-off of dictionary words that belong to all people equally around the globe to the wealthiest bidders.
Consumer Watchdog also filed a comment on the ICANN closed generics forum which they called: Keep Generic TLDs Open For All. You can read an extract on the ICANN Forum 3 page.
GAC's Beijing Communiqué
ICANN's Governmental Advisory Committee issued a communiqué in April 2013 acknowledging the serious issue of closed gTLDs and recommended that any such closed registries should serve the public interest:
Exclusive Access

• For strings representing generic terms, exclusive registry access should serve a public interest goal.

• In the current round, the GAC has identified the following non-exhaustive list of strings that it considers to be generic terms, where the applicant is currently proposing to provide exclusive registry access:

.antivirus, .app, .autoinsurance, .baby, .beauty, .blog, .book, .broker, .carinsurance, .cars, .cloud, .courses, .cpa, .cruise, .data, .dvr, .financialaid, .flowers, .food, .game, .grocery, .hair, .hotel, .hotels .insurance, .jewelry, .mail, .makeup, .map, .mobile, .motorcycles, .movie, .music, .news, .phone, .salon, .search, .shop, .show, .skin, .song, .store, .tennis, .theater, .theatre, .tires, .tunes, .video, .watches, .weather, .yachts...

(PLUS IDNs for "cloud", "store", "sale", "fashion", "consumer electronics", "watches", "book", "jewelry", "online shopping" and "food").
Beijing Communiqué, April 2013 (page 11)
Well, what are some of these new domain names?
A tiny fraction of the millions of possible "usable" domains that will materialize are presented all over this website. Countless, high potential names like Play.games, Latest.news and Online.bank.
In October 2012 DomainIndex published an illuminating list of thousands of potential domain names, including hypothetical valuations. This is an eye-opening list, absolutely eye-opening. These valuations seem to be based on sophisticated algorithms and research (true valuations will come later) and will depend on many factors yet to play out. Not least the question of whether the public will resist the countless millions of dollars that will be spent (mainly by the coming brand domain owners) on the marketing of non dot COM domains. Will people break the habit of visiting Something--dot--COM and get into the habit of visiting My.mail or Funny.movies? That is the billion dollar question.
The DomainIndex list really opens up the realms of possibilities in your mind. Home.insurance, Cheap.hotels, Web.page, Rental.cars, Stock.market and on and on and on...
Awareness And Criticism Spreads
Isolated but passionate opposition to the proposed closed registries is spreading. For example, this Names.co.uk article from October, 2012 sums up the situation very well:
"Critics believe ICANN had not prepared before the application process began, for the twist that giant companies such as Amazon, L'Oréal and Google, took on the new programme. These large entities have applied for the exclusive use of generic extensions... and there is now public outcry as the possibility of a monopolised Internet becomes a reality. If ICANN grants large brands the exclusive use of generic terms or 'strings', it will mean registration of these domain names will be closed to the public and to their competitors."
SPECIAL NOTE — SuperMonopolies has a page about L'Oréal's application to own and operate .beauty as a closed domain extension.
Forbes
An article in Forbes in November 2012 by Reuven Cohen continued the theme, helping to illustrate the commercial power and possibilities of exclusively owning entire domain strings:
"In the Amazon .CLOUD application it states 'All domains in the .CLOUD registry will remain the property of Amazon. .CLOUD domains may not be delegated or assigned to third party organizations, institutions, or individuals.'

"What this means is unlike other top level domain such as .com .net .tv, etc, no individuals, organizations or businesses will be able to register and use a .CLOUD name for their website if the Amazon proposal ultimately wins control of the .CLOUD registry."
Politico
Politico published a concise overview of the controversy by Michelle Quinn in February 2013 (with a comment by SuperMonopolies): "ICANN's debating what's in a domain name".
"Should a company be allowed to run a generic term such as tire, insurance or book as a domain and wall off its use from competitors?"

That is the big question being asked by Politico. Should one tire company be permitted to exclusively own all the great tire domains like Car.tires and Truck.tires? Should one insurance company be allowed to own Life.insurance, Home.insurance and all the rest? Should a single company like Amazon be able to own every book domain like Buy.book, Paperbook.book, Text.book, School.book and Romance.book and simultaneously shut out all its competitors? These are significant questions.
"Clearly, companies want to own and control generic words as domains so that they can offer their services. But with that comes the possibility of blocking competitors who want to attach their brand to a term. For example, Ford might want to buy ford.truck but be blocked from doing so by the owner of .truck."
I add to that statement the possibility that the Ford rival who might theoretically own the .truck string would very likely seek to prevent Ford from owning all generic .truck names such as Pickup.truck, Buy.truck or Used.truck, not just the brand domain Ford.truck to which they have a clear moral right.
SPECIAL NOTE — SuperMonopolies has published a page about the proposed .tires string.
TheDomains — (Domaining 6.0 article)
An innovative pocket history of the internet from a domaining perspective is published at TheDomains. Six stages are identified in this must-read article. (Owner Michael Berkins is a domain expert and also the owner of MostWantedDomains, a successful domain sales company.)
...It's not hard to imagine that a future article in 2014 might be called "Domaining 7.0 — 1000 new Top Level Domains".
The relevance of this "pocket history" lies in the way this concise summary of the internet illustrates its implacable evolution. It is not going to stop.
Uniregistry
Frank Schilling is widely regarded as the world's number one domain investor and writes infrequent but highly influential articles on his blog Seven Mile. He is also the founder of Domain Name Sales and MD of Uniregistry, one of the biggest applicants for many of the proposed new gTLDs. What Uniregistry says about it's domain registration policies in a kind of 'mission statement' is both revealing and commendable:
"Liberty & Fairness — A transparent, egalitarian society in which opportunities are endless and equally available to all registrants." Read more.

"Uniregistry believes that registrants are best served by a neutral registry service without conflicts of interest. Interested entities or cartels composed of market participants seeking to run registries for their markets present a real risk of discriminatory operation of the TLD to the exclusion or detriment of competitors." Read more.
Uniregistry emphasizes fair accessibility for the new gTLD strings:
"The future prosperity of the domain space rides on the sound, responsible stewardship of these top level names. It is important that they are well-managed, developed, and made freely available at fair prices... An impending tide of increased demand for naming options is upon us."
Super Monopolies
Some applicants for the new gTLDs are seeking to solely own entire domain strings to the total exclusion of their competitors.
Closed registries. Walled gardens. Private internets.
Unfortunately, lack of awareness has meant lack of resistance.
It takes just a moment to sign the online petition.
SuperMonopolies.com presents four in-depth examples about some significant and potentially popular right of the dot domains, the dot store, the dot news, the dot beauty and the dot tires strings. In association with strong and well-argued opposition from individuals, organizations and corporations around the world as described throughout this site, the impending damage to the public interest from the proposed closed gTLDs is clear to see.