Brand Domains
It's quite unprecedented, unless you compare it to Day One of the world wide web. The dot brands are coming. Billions of dollars, yuan, euros and yen will be spent on promoting myriad memorable names like:

...And the internet will never be quite the same again.
Given the identities of the powerful corporate backers, the volume of commerce that will transact on dot brand domains like these is going to be large. A name like Cloud.ibm has compelling authority and impact. It's all about the Trust. And the memorability. The rise of the intuitive .brand strings is sure to drive major growth on the internet, as individual corporations shift from operating just a handful of domains to deploying hundreds if not thousands. Over time, this future activity will almost guarantee there are meaningful alternatives to dot COM domains.
In a revealing DomainSherpa interview, Xavier Buck, chairman of EuroDNS (while personally sceptical about the generic TLDs) emphasized his belief that the dot brands would account for a massive growth in domain registrations. He speculates that this could even potentially increase total domain registrations five fold to more than one billion over the coming decade:
"So we are only at two hundred million domain names today, but as I said, in ten years, we will do five times that. We will be at the billion domain names. And why? Because of the brand TLDs... Big brands got their TLDs and we did a lot of consulting for some of the large brands; and what is going to be interesting is to see what these brands are going to do with it."
The interview also contains a fascinating and original use of a brand domain being contemplated by one of the world's biggest freight companies. (Visit DomainSherpa for details.)
With direct experience in advising global corporations, Xavier Buck has advised some major brands in procuring their own dot brand domains, and recounted that a high level of enthusiasm and funds were available:
"Well, when you look at the 1900 applications, you see that a lot of money went into it. Donuts raised more than a hundred million. And actually, people were fighting to be able to participate in the second round and it was actually even private doors behind private doors... A lot of people managed to find a lot of money."

The DomainSherpa interview with Xavier Buck, chairman of EuroDNS
It seems that a lot of very successful and wealthy business people believe in the future of the new domain strings and are backing them with barrels full of real money. Make of this what you will. Know better if you want.
Famous domain investor and visionary Frank Schilling has pontificated about the power and influence of the big brands in the context of the way in which the dot COM string assumed supremacy over all other existing domain strings in the short history of the web:
"How did we get to that evolution where .COM came to rise against other TLDs? The brands had led the way. Everyone else followed. The small brands tried to emulate the big brands so everyone would think they were big too...

"The billions of dollars in new marketing for more intuitive site labels will drive the acceptance of, and navigation to, generic SLDs like Used.Cars; just as generic intuitive SLD's such as PickupTrucks.com became more viable due to brands marketing URLs like ToyotaTrucks.com or EbayMotors.com before them. Latch onto the belief that things will be the same forever if you wish, but today's technically savvy Internet user will require much less time to get used to new gTLDs than the 14 years it took a stunned World to come to grips with the concept of .COM SLDs...

"Marketing campaigns incorporating more intuitive new gTLD phrases, facilitated by a broad spectrum of alternative gTLDs, offered simultaneously, en-masse, will likely catch-on and work toward marginalizing some existing gTLDs and .COM SLDs in the long run."

Frank Schilling, Seven Mile blog (founder, DomainNameSales.com)
In domaining circles, the rise of the dot co string has been much written about. While .co is actually the suffix for Colombia, its shared meaning with "co" (for company or commerce) has given it much greater value from this perspective. There are now around 1.3 million dot co domains registered. The dot co registry is credited with masterful and innovative marketing to achieve this outstanding result. Whatever they spent innovating and marketing to attain such a high level of success — their spend will be massively exceeded by the publicity spend of the dot brand owning giants.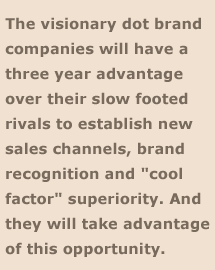 These companies will spend countless millions promoting their dot brand websites. These new sites will invariably be supplementary and deferential to their existing dot COM site(s). Particularly since the next round of new gTLD applications likely won't happen for several years. The visionary dot brand companies will have a three year advantage over their slow footed rivals to establish new sales channels, brand recognition and "cool factor" superiority. And they will take advantage of this opportunity.
There are many imaginative and unprecedented ways companies, armed with their own brand domain, will be able to operate. Canon is a visionary company applying for its own extension. Canon will be able to have a dedicated site for every single product in their catalog. It will be so easy to just go to camera.canon or eos.canon if you want to buy a new camera or simply refer to the specs and support. All with the complete trust you can associate with a top brand like that. Go to Camera.canon, and you know you have arrived at a reputable, trustworthy, secure online store since you are already familiar with their reputation. Lost your manual? Go to Manual.canon.
In a Forbes article by Chris Barth, Richard Stockton speculates that every Canon camera could automatically upload photos to each camera's preconfigured .canon website!
...This is just to illustrate the imaginative possibilities and potential of the new gTLDs ...Incredible ideas that have not yet been dreamed of.
Canon believes that their new proprietary dot brand will enable great marketing and branding opportunities, unify their internet presence, and build the highest possible level of trust. Here are some of their thoughts as contained in their application document for the .canon string:
"Since .canon is a brand new TLD that directly represents the company/brand name, the Applicant expects it to be a highly effective marketing and branding tool. The Applicant believes that .canon will not only reinforce Canon Inc.'s brand on the Internet, but also attract people to visit the website because .canon domain names make it easier for Internet users to (gain) access to the information related to the company.

".canon is a 'company/brand TLD', which is a new type of TLD that is expected to have increased marketing and branding power. Registrants of .canon domain names will be pioneers in benefiting from the value of a 'company/brand TLD'. Also, all information sent or published from .canon will be official and that means the information is dependable..."
Canon. Application for the .canon TLD string.
We'll soon see sites like Hotel.hilton, Hotel.marriott and Hotel.hyatt online. Those three companies have applied for their own strings. In contrast, Sheraton is not an applicant for their own string. Yet. It isn't hard to imagine Hilton, Marriott and Hyatt spending many millions on their brand sites in the next few years to try to leverage brand recognition, sheer prestige and market share (over Sheraton) with their forthcoming proprietary domains. Sheraton could lose momentum and brand credibility over this.
If you try to visit Hotel.sheraton, you will just get an annoying error message.

UPDATE — Hilton has withdrawn their application for the .hilton string. SuperMonopolies believes this is a misjudgment and they will likely re-apply in the next round.

A big blunder has to have been made by Mastercard. There is no application for that name string. No doubt arch-rival Visa will try to leverage every possible advantage from their new domains like: Rewards.visa, Travel.visa, CreditCard.visa, Emergency.visa, Shop.visa, Lost.visa, Apply.visa and many others their marketing experts will dream up. Mastercard will look old-fashioned in comparison. Visa will have around three years to exploit this advantage before Mastercard will be able to obtain their own domain and try to catch up.
Facebook hasn't applied for .facebook, yet. That seems to be a blunder, they could have issued their billion users a free dynamic domain to strengthen their loyalty: YourName.facebook
The visionary companies who have applied for their own .brand will leverage their first mover advantage to outsmart their competitors.
How much money will the following auto firms — all applicants — spend publicising their new brand domains?
Alfa Romeo, Bentley, Buick, Cadillac, Chevrolet, Chrysler, Datsun, Dodge, Ferrari, Ford, Honda, Jaguar, Lamborghini, Landrover, Lexus, Maserati, Nissan, Toyota, Volkswagen and Volvo.
Who wouldn't be tempted to visit Luxury.jaguar or Perfection.ferrari?
Many of the applications for the new domains reveal some of the strategic intentions of many of the world's leading corporations. Here is what General Electric plans to do with their impending proprietary .gecompany string:
"The preservation and protection of the GE brands is of paramount importance to General Electric in all aspects of its operations, including and especially on the Internet. Operating the GE brand as a gTLD will be an important part of GE's digital strategy in the future.

"The business strategy for the .GECOMPANY gTLD is centered on the unification of intellectual property rights, promotion, marketing and customer relations across General Electric and all of its brands.

"The initial use of the .GECOMPANY gTLD will involve an examination of the marketplace of similar launching gTLDs so that General Electric can best use the .GECOMPANY space to its advantage and the advantage of the public at large. General Electric will then register a limited number of second-level domain names to test the system internally, figure out the best ways to market the second-level domain names to the public, and start slowly transitioning from General Electric's domain names in the .COM and other spaces.

"General Electric spends many millions of dollars each year in marketing the GE brands and a higher percentage of these marketing dollars are in the online space each year. The .GECOMPANY gTLD may therefore play a large role in the company's future online strategy. General Electric will use large portions of its marketing budget to speed up the process of customer recognition and adoption of .GECOMPANY. General Electric will do whatever is necessary to make sure that the public feels as if the .GECOMPANY gTLD is the place to go for consistent information about GE and all its brands, good, services, partners, and affiliates and that it will be the safest place they can go on the Internet to get such information."
General Electric. Application for the .gecompany gTLD string.
Concluding, there will soon be many more great reasons, temptations and rewards to visit non dot COM websites — likely in a game changing way.
City Domains
The significance and implications of the coming dot city domains are similar to the dot brands, so they are discussed on this page too.
The sheer scale of the new dot city strings will add to the momentum of the dot brands. Many of the world's greatest cities will operate their own, regulated domain system. Given this strict regulation, these will surely be universally perceived as highly trustworthy, not something you would say about dot com domains collectively. Backed by governments, these sites will command immediate authority.
These city spaces are likely to be shared by government agencies, councils, NGOs, utilities, services — as well as a plethora of authorized and carefully verified private companies and entities. Their deployment by governments, councils, utilities and other official organizations should ensure they are widely used.
So it's entirely possible that a mixed dot city domain ecosystem, while primarily aimed at local residents, could become a significantly visited space within those large cities. Over time, more and more people will spend more and more time visiting non dot COM websites. As examples, consider two transport websites that will likely rollout in London:
Tube.london
Heathrow.london
While Tube.london could end up having millions of visits by Londoners each year, Heathrow.london could have millions of visitors worldwide. (London is the world's number one travel destination with around 70 million passenger transits annually.) Here is a hypothetical mixed public/private selection of possible London domains:

Any number of them could conceivably become popular websites. It's hard to predict if many government departments with long, hard to remember .gov.uk domains will dual brand their addresses with names like those above. The Super Monopolies website has no objection to the dot city strings (especially if the city authorities can figure out an equitable way of allocating their domains).
The dot city domains will help break down the near-exclusive dot com habit.