The Official Objection Procedure

Despite the hundreds of millions of dollars ICANN possesses in funds from its jurisdiction over the internet naming system and rollout of new gTLDs, lodging an Official Objection is prohibitively expensive for just about anyone. There can be little doubt that the exorbitant cost has discouraged official objections when in comparison you consider that a large volume of negative comments have been made when that option is free.
The parameters that narrowly define anyone's eligibility to make objections are highly controversial. The definition of "objection" should be limitless, not narrow. ICANN has apparently not foreseen the possibility of the rise of powerful economic domain monopolies, but in any case the problem should have been easy to object to and the procedure should have had open parameters.
To a domain and brand expert, the problem is very real and self-evident.
Justice is justice. Justice knows no boundaries.
An injustice served on just one individual is still an injustice. In which country does the law require substantial "community opposition" to an act before justice is carried out?
More follows.
ICANN Procedure
The objection period for the new gTLDs began in 2012 and closed in 2013. More details are published on the ICANN Objection and Dispute Resolution page.
There are four categories of objections:
1. String confusion
2. Legal rights
3. Limited public interest
4. Community
SPECIAL NOTE: Objections are not filed directly with ICANN but with authorized Dispute Resolution Service Providers as follows:
1. String confusion —
The International Centre for Dispute Resolution
2. Legal rights —
World Intellectual Property Organization
3. Limited public interest —
The International Center of Expertise of the International Chamber of Commerce
4. Community —
The International Center of Expertise of the International Chamber of Commerce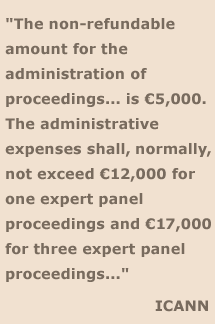 "Community" seems to be the applicable category where you can lodge a formal objection to an exclusively owned dictionary word domain string application like .game. In other words, "Community" seems to be where you must lodge an objection if you care about the anti competitive intentions of some of the domain string proposals as described on this website. The fees are high — expect to pay in the range of $40-50,000 or more.
"The non-refundable amount for the administration of proceedings pursuant to the New gTLD Dispute Resolution Procedure is €5,000.

"The administrative expenses shall, normally, not exceed €12,000 for one expert panel proceedings and €17,000 for three expert panel proceedings...

"The fees of each expert shall be calculated on the basis of the time reasonably spent by the expert on the proceedings... The hourly rate shall be €450 unless decided otherwise by the Centre after consultation with the expert and the parties."
For further details, visit ICANN's Objection and Dispute Resolution page, scroll down to the Community section, and click on ICC Fees to download a PDF file.
SPECIAL NOTE: ICANN received about $350m in application fees for the new gTLDs. A percentage of this should have been spent on a global awareness campaign.
Eligibility to lodge an objection is unnecessarily restrictive — the process excludes many possible legitimate points of view:
"• For an objection to be successful, the objector must prove that: the community invoked by the objector is a clearly delineated community; and

• Community opposition to the application is substantial; and

• There is a strong association between the community invoked and the applied-for gTLD string; and

• The application creates a likelihood of material detriment to the rights or legitimate interests of a significant portion of the community to which the string may be explicitly or implicitly targeted."
You don't appear to be permitted to lodge an objection based on your individual opinion, you don't appear to have individual rights on this issue. You have to define the community you represent and demonstrate widespread opposition within it:
"The objector must prove substantial opposition within the community it has identified itself as representing."
ICANN's requirements are not restricted to points like the following, but these are examples of the types of evidence that you must provide for your objection to succeed:
"• Evidence that the applicant is not acting or does not intend to act in accordance with the interests of the community or of users more widely, including evidence that the applicant has not proposed or does not intend to institute effective security protection for user interests...

"• Nature and extent of concrete or economic damage to the community represented by the objector that would result from the applicant's operation of the applied-for gTLD string..."
ICANN's gTLD Applicant Guidebook, Module 3, (P 22-24)
So, for example, let's suppose you are operating a little shop selling golf clubs, and you wish to register the domain GolfClubs.shop. There is currently no guarantee that the .shop string will even be an open registry. So to be certain of eligibility, you will have to demonstrate to ICANN that there is significant community objection to Amazon owning every .shop domain in existence, including GolfClubs.shop. (Since Amazon has applied to own the .shop domain extension as a privately owned, closed registry). If you are not able to demonstrate a high level of community objection, and if you can't afford around €15,000 in fees, then you may not even be able to apply for a .shop domain.
Could it be that the surprisingly large number of applications to operate closed, monopolistic registries observed the serious flaws in ICANN's procedural methodology described above, realized that objecting was almost impossible both rationally and financially, and decided to exploit it for their own unfair gain?