.Beauty domains

By 2014 every .beauty domain name and website may be owned by just one corporation.
Every single one of the imaginary domains that you see listed on this page is likely to be owned in exclusivity by just one company. Whichever fortunate company becomes the dot beauty registry will control every imaginable dot beauty domain in the world, without any mandated requirement by ICANN, the internet regulator, to onsell or divest them.
L'Oréal has applied to become the .beauty registry, registrar and registrant. According to their official application for a closed registry, the sites they plan to operate in the space will initially number around 10,000.
"If L'Oréal gets .beauty, which seems very likely, it will be able to reserve this top level domain name just for its own use. Unlike .com, .org, .net etc, which are public TLDs, .beauty will be a private TLD. What this means is that, for instance, "Raji Curls," a beauty salon, will not be able to ask for www.rajicurls.beauty, as one could have in the case of .com. L'Oréal will have the exclusive use of .beauty, as its private property. If L'Oréal were to seek a trademark for "beauty," it will be flatly refused...

"How L'Oréal will leverage this privileged association with a key symbolic term of our culture will be an interesting exercise to follow. But the goldmine is there for anyone to see. It can certainly begin by propagating the term ".beauty" in all its communications and expressions. With time, demonstrating the long association, it could also seek trademark rights on ".beauty," and so will go on the saga of how L'Oréal became beauty, and beauty, L'Oréal!"

The Hindu. Beauty lies in the 'domain' of the highest bidder. Parminder Jeet Singh, Executive Director, IT for Change
L'Oréal is seeking to exclusively own every valuable .beauty domain in existence. Their application also states that after five years or so, and only after serious evaluation, they may allow .beauty registrations by third parties. (See actual excerpts from their application at left).
Since exclusive ownership of the dot beauty string is likely to be highly lucrative, opening up the registry voluntarily seems unlikely. (A primary reason is that a closed registry will be able to easily prevent fraud and spam etc which could reduce the value of the extension).
In any case, even if they do eventually open up the registry, L'Oréal will already have fully exploited first mover advantage for five long years, establishing an insurmountable portfolio of domains such as Perfect.beauty and Timeless.beauty and Feminine.beauty and Chinese.beauty. They will have at least five years to identify and launch their stated ambition of around 10,000 websites. By then, they will own all the best 10,000 beauty domain names — leaving only scraps for any competitors who still wish to venture into the space. No good names will remain for competitors to register (with the exception of their respective brand names).
ICANN has accepted the application fee and the application is legally valid. L'Oréal is the only cosmetics company applying for the string, and hence is the best funded and most motivated to win their application.
Exclusive ownership of a domain string like .beauty implies large impending financial advantages over a registry that is merely applying for non-exclusive control. It follows that applicants for exclusive domain string ownership have much more to gain than rivals applying for open registries. Hence they can afford to bid much higher in cases where the domains go to competitive auction or in any private negotiations. And they will have a fundamental reason to do so. And so they will.
The magnitude of this unfolding scenario is enormous. The possibility of unfairly dominating this highly valuable commercial category is very real. You can find various links to warnings by senior academics, lawyers and others about this issue across this website. The cosmetics & beauty industry is a highly competitive and lucrative global marketplace, yet ICANN is permitting the premium domain space to be sold as a possible closed registry to the highest bidder.
ICANN is paying mere lip service to the idea of fairness and competitiveness.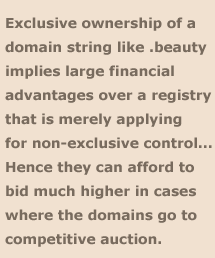 To emphasize, applicants for exclusivity have a compelling reason to bid much higher than rivals (applying for open registries) because their returns are likely to be many times greater. This is not a fair contest. This is not a level playing field.
Imagine the collective value of the tiny sample of possible websites listed on this page. The value lies not so much in the resale value of the domain names themselves — the true value lies in the future commerce that will transpire on these sites. Imagine the shockwaves and job losses if one sole company benefits from monopolizing every dot beauty site in the global cosmetics industry.
With the appropriate sophisticated level of marketing & advertising, for which cosmetics companies are famous, the .beauty domain extension will likely become highly successful.
L'Oréal could soon become synonymous with ".beauty", while every other cosmetics company is simultaneously shut out from this domain string.
And as stated on the Brand Domains page, while it is impossible to trademark the word "beauty", a domain like Flawless.beauty can become a very real virtual trademark. Without having to pay one cent to the US Patents and Trademark Office.

"L'ORÉAL is a responsible actor in society, a good neighbour and a concerned citizen committed to the communities in which we do business."

Excerpt, L'Oréal Code of Business Ethics

"L'Oréal is also committed to operate the .BEAUTY gTLD in accordance with its policies on fair competition, as outlined in the L'Oréal Code of Business Ethics..."

Excerpt, L'Oréal dot beauty application

"FAIR COMPETITION

"We respect all actors in our professional sphere, including competitors. We treat them the way we would like them to treat us. Our position as leader in the cosmetics industry reinforces our duty to set a good example in this area."

Excerpt, L'Oréal Code of Business Ethics
General dot beauty domains
This tiny list of possible .beauty domains illustrates the formidable possibilities and compelling potential of what's on the horizon: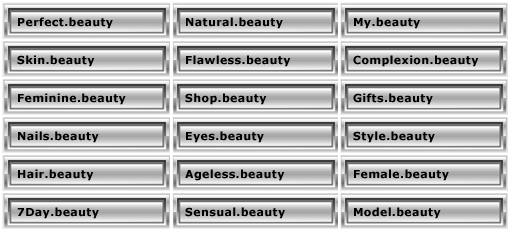 The .beauty domains in the various cosmetics, health, slimming and fitness categories also have enormous potential.
Imagine the sheer power and advantage of owning all these lifestyle, product and beauty domains while having all your competitors simultaneously shut out:

Location based domains also have great brandable potential. These names are memorable and authoritative.
One of the biggest internet buzzwords is "local", and the following types of location based websites should have great intrinsic value:

Any of the above concepts could become a highly successful business in its own right. And there are countless other possibilities in the dot beauty category, hundreds of cities, thousands of suburbs and localities that could be exploited.
SPECIAL NOTE: L'Oréal has also applied for the .hair (2 applicants), .salon (4 applicants), .makeup (sole applicant) and .skin (sole applicant) registries.
The principles and implications described on this page about the .beauty domain string apply with varying degrees to hundreds of other generic dictionary words that are being applied for as domain extensions. Examining each and every one, in particular which ones intend to be open registries and which intend to be closed registries, is beyond the scope of this website.
Applicants for the .beauty registry:
There are three applicants for the .beauty registry including L'Oréal. The other two applicants are essentially domain companies, not cosmetics companies. It's very difficult to see either of those having the imperative to outbid L'Oréal for the registry who describe themselves as the "leader in the cosmetics industry". L'Oréal has close to 69,000 employees and 27 global brands with annual sales in excess of €50m. They simply can't afford not to win it. They have so much to lose if all these names fall into the hands of a competitor. After all, L'Oréal has a commitment to shareholders to effectively utilize their assets:
"We deliver long-term, sustained shareholder value by protecting and making the most effective use of company assets."

L'Oréal corporate ethics statement.
It's quite clear that L'Oréal will vigorously protect and make effective use of the .beauty registry.
It's also clear that L'Oréal has far, far more to gain than its competitors from owning the .beauty string — because their applications are for open registries.
It isn't hard to see the possible monopolistic consequences of ICANN permitting the establishment of closed gTLDs.
You can read ICANN's full list of domain string applications here.
SPECIAL NOTE: The author has not read all the individual applications for the above, and does not know which applicants if any are applying for exclusive ownership of these domains. The author does not state or imply that any of the applicants is seeking to establish a monopoly in the wide-ranging field of "beauty". Only that it is not expressly prohibited by ICANN's application process, and that some of the world's largest corporations intend to acquire and implement various gTLDs privately and exclusively as described in various application documents. The consequences of this unprecedented scenario are unknown.